In addition to coin growth, dividends are an indicator and measure of Hotelium's success. With the exception of the dividends for 2020, which will be paid out from the company's reserve fund due to an unforeseen situation, they will henceforth come from real estate. As stated in the white paper, each May we will distribute 10% of the value of the previous year's property among shareholders.
Who is entitled to dividends?
Dividends are paid for owning three types of units:
– HTL Shares B (converted from Available HTL or received in special promotions),
– HTL Shares A (loyalty awards and from expired packages),
– HTL Held (team, binary and pool prizes).
Shares B and Held are entitled to total dividend regardless of the acquisition date, while Shares A is valued based on the acquisition date in the year (dividend / 365 x age).
What is the dividend calculation?
The firm first sums up Shares B plus HELD plus weighted Shares A (multiplied by the date coefficient). Then the budget is divided by the obtained sum of 'shares'. This gives a yield per 1 HTL Shares B (= HTL Held), after which we calculate the share for each HTL Shares A separately. HTL Shares A can therefore be worth anything from 1/365 to a full dividend.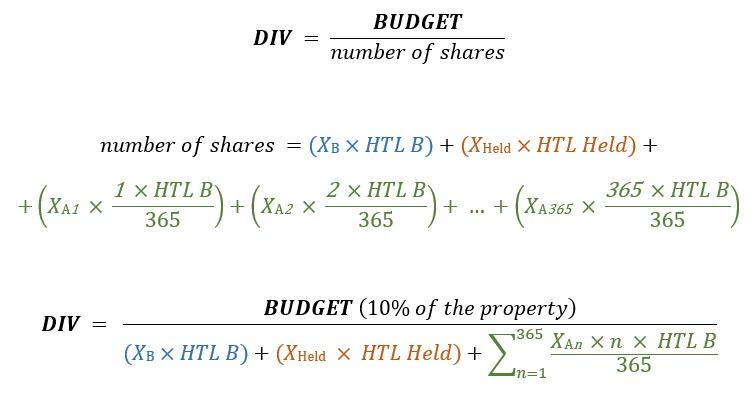 When and how will dividends be paid out?
Dividends will be paid out in Available HTL tokens on May 9th. Of course, their euro value is already known in January, but due to the gradual change into HTL tokens, it will not be disclosed until May. In doing so, we will take the average exchange rate.
Why is there nothing in the back office related to dividends?
Until the first dividends pay out, we will upgrade our platform so that each member can clearly see the number of their 'shares' and profit.