Dear members, for the anniversary of the Hotelium, between April 16 and 29, an additional 4% HTL Shares B will be awarded for each activated or upgraded package.
Time goes by fast. On April 17, Hotelium is celebrating its fourth anniversary in the market, and the world seems to have changed more during this time than in previous decades.
There has been a global outbreak of a disease, and our social habits have changed forever. At the same time, we are witnessing an incredible expansion of technology that we only dreamed of in our younger days. Many new innovations are visible, tangible, and clear to everyone, but many reside in the background. Such is, for example, the revolutionary decentralized ledger called the blockchain.
However, even blockchain is becoming more and more familiar thanks to its biggest application, cryptocurrencies. This new store of value was considered controversial just a few years ago, but nowadays Bitcoin and others are used even by state-owned banks and institutional investors. Among people, cryptocurrencies are almost as common as Zoom, PayPal, Uber or Airbnb.
There has also been a war going on in Ukraine, which proves to us that peace is not self-evident and that the interests of the ruling spheres are still omnipotent. The consequences of war will change the world, perhaps even more so than Covid-19, in which all humanity has been united at least once.
And where are the ordinary man and woman here?
Where they have always been: in the struggle for economic survival. In daily stress and fear, not only of the future, when he is supposed to enjoy the fruits of his labour but also of the present. From month to month. From one bill to another.
It is futile to expect that things will take care of themselves and someone else will improve living conditions for us. On the contrary, politicians, banks and other puppeteers are working to ensure that capital is distributed according to the old ratio: 10% of people hold 90% of world wealth.
But there are still opportunities for a common man or woman, they just have to look around. The right to free enterprise. It is up to the individual to exercise these rights, seize opportunities and do something for their economic and life well-being.
The first on the list is education, the one about the rules of the game in the financial world. There is a lot of knowledge on this topic available for free on the internet, all you need is the will and self-discipline.
Those of you who are with us at seminars know that the environment has a positive impact on the availability of change. After growth. After awakening the potential. We're all here for personal goals, but to achieve those, we need to work as a team. As a family. The success of others and thus the Hotelium impacts one's own personal success.
Your success is therefore important to all members of our organization. And that is why we encourage you and reward you appropriately. But remember that the key to success is only in your hands.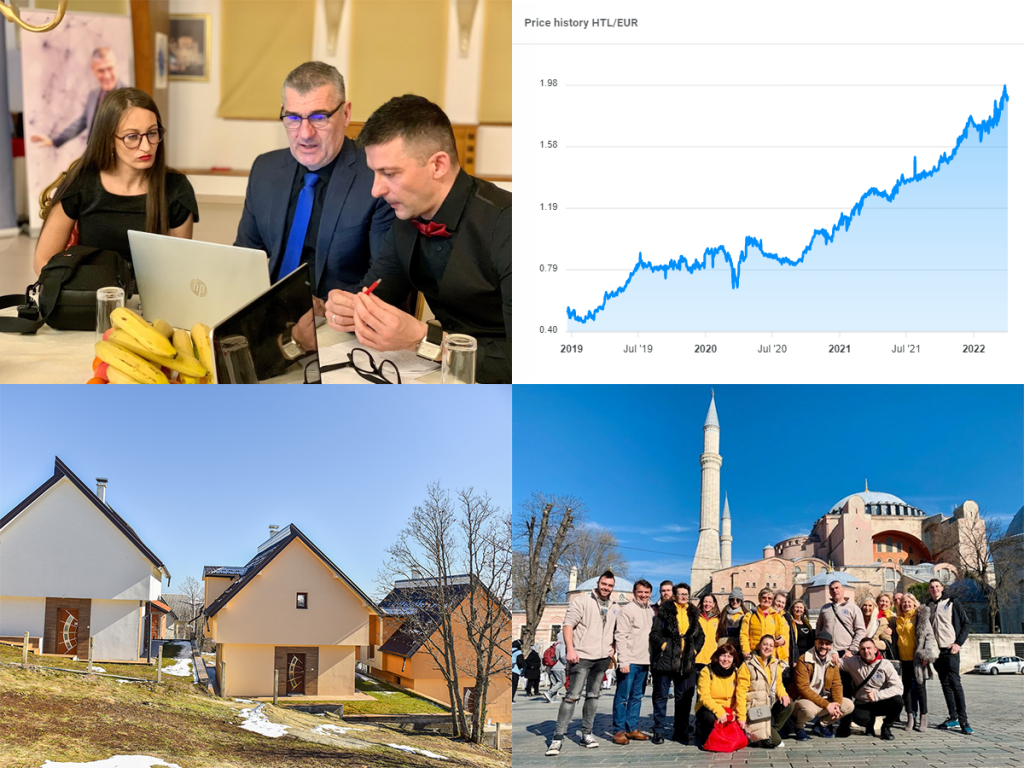 Some key facts and events from the previous year:
6,000 new members.
Open markets in Asia: Bangladesh and India
The signing of a contract for three holiday homes and the establishment of Diamond Club Zlatibor
Enlisting real estate on the platform Booking.com
Introduction of vouchers and benefits for our members
Set up a project with a glamping resort
Unforgettable VIP TRIP in Istanbul
HTL token value from $ 1.4 to $ 2.10, 50% growth
112 new BRONZES, 79 new SILVER, 21 new GOLD and 14 new PLATINUM members.
Plans for this year:
May dividends for last year's HTL Shares A and B
Greater emphasis on global presence, especially in Africa and Asia
30 new Platinum members
Unforgettable VIP trips to Dubai and Zlatibor
Further development of Diamond Club Zlatibor
Purchase the next property
Web Office Development and Planet Partners Applications
Adapting the project to all new regulatory requirements.
Above all, I wish all of us that the Ukrainian crisis will be behind us as soon as possible, the rest is in our hands. Good luck and success, special thanks to the leaders, and let our fifth year be prosperous.
Go Diamond!
Vladimir Popović
Founder / CEO