We are delighted to announce that Hotelium has become a promised ecosystem as it was planned from the beginning. We own a holiday property, which members can book with newly introduced vouchers from purchased packages and with available HTLs, making them proper utility tokens. This is a big step for our project as well as for the tourism industry, which is still neglecting cryptocurrency payments.
As we said in the previous article, we became the owners of three houses in the natural pearl of Serbia, the all-season picturesque Zlatibor. Although we also market them for the benefit of the community through well-known services such as Booking.com, preference is given to 'our' guests, who can easily make a reservation through the back office. Members enjoy three benefits: a lower price and two non-cash payment options, a voucher, and our HTL-currency!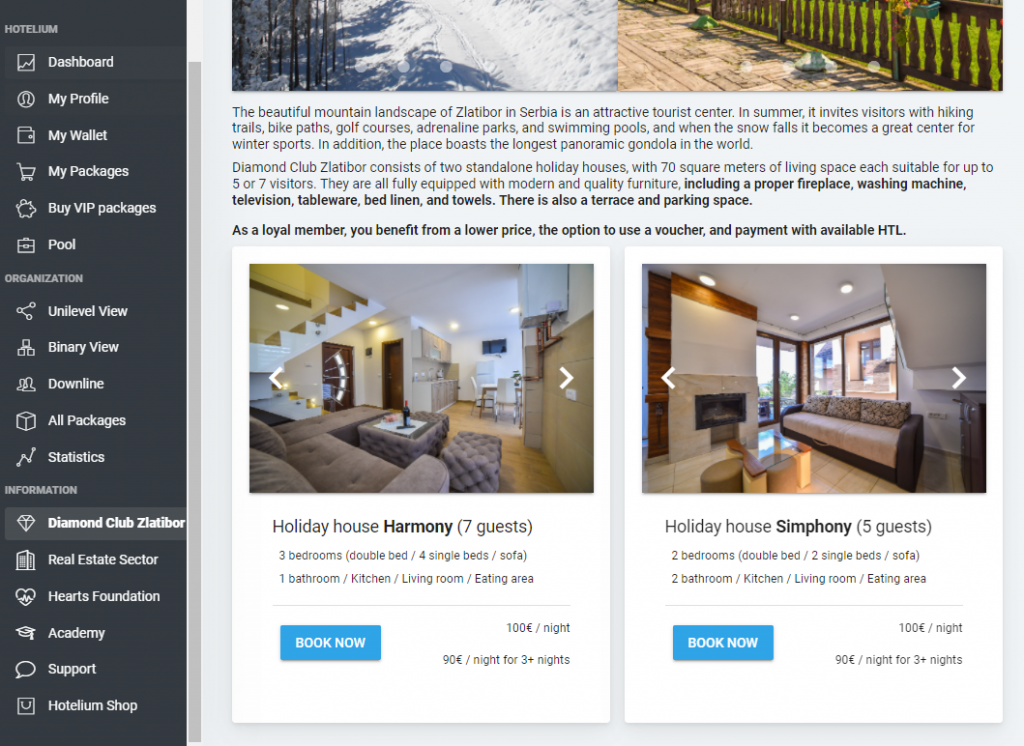 Each member with an activated package has a booking voucher in the back office for 10% of the value of the purchased or upgraded package (more packages means more vouchers). With it, he can settle up to half the amount of the reservation. Please note that the voucher is indivisible, so the difference will not be returned.
The member can settle the remaining half with available HTLs according to the current exchange ratio. If he or she doesn't have enough tokens, they have to be deposited or bought. However, there is also an option to settle the balance with cash on the spot.
We hope you will all experience the hospitality of Diamond Club Zlatibor and enjoy the really beautiful surrounding nature. And mind that the property belongs to us all, so please take care of it, spread the word, and give it a good rating on Google Maps. We wish you a pleasant stay!